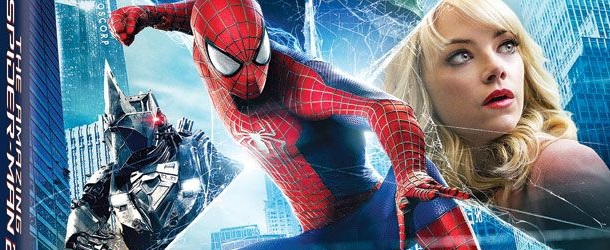 Pas de jaloux ! La jaquette du DVD/Blu-ray de The Amazing Spider-Man : Le Destin d'un Héros sera identique en France et aux Etats-Unis. Sur ses terres, Peter Parker débarquera dans le salon des fans le 5 août en DVD et le 19 août en Blu-ray. En France, il faudra attendre le 3 septembre pour les différentes éditions (DVD, Blu-ray, Combo DVD/Blu-ray et Coffret collector). La liste des bonus a enfin été dévoilée par le site Entertainment Weekly. On retiendra la présence d'une petite dizaine de scènes coupées ! Spidey rebooté n'est peut-être pas le roi du box office (seulement 700 millions de dollars dans le monde pour cette suite), mais côté bonus, il assure…
Blu-ray & DVD Bonus Features Include:  

4 All-New Deleted Scenes with Commentary by Marc Webb
Filmmaker Commentary
Alicia Keys "It's On Again" music video

Exclusively Available on Blu-ray:

9 Additional Deleted Scenes with Commentary by Marc Webb, including "Peter Meets His Father"
"The Wages of Heroism: Making The Amazing Spider-Man 2," featuring revealing, in-depth segments including:
"Lessons Learned: Development and Direction" — Filmmakers and cast discuss their approach to the sequel and their efforts to make it the best Spider-Man yet.
"Heart of the City: Shooting in New York" — A behind-the-scenes look at the film's unprecedented access to 
New York City during production.
"Triple Threat: Attack of the Villains" — An inside look at the development of Spider-Man's fearsome foes, Electro, 
the Green Goblin and Rhino.
"A More Dangerous World: Transforming Electro and the Green Goblin" — From make-up to costuming, see what it took to transform Jamie Foxx and Dane DeHaan into their fearsome alter-egos.
"A Bolt From the Blue: Visual Effects" — Sony Pictures Imageworks artists and animators show how they created the gravity defying, web-slinging and pumped-up action in the new film.
"Spidey Gets His Groove Back: Music and Editing" — Learn how the film's soundtrack and score came together in this behind-the-scenes look at jam sessions with Composer Hans Zimmer and the team of master musicians he assembled, including Pharrell Williams, Johnny Marr, Michael Einziger and more.

Exclusive to the DVD:

New Public Service Announcement for the Worldwide Orphans Foundation (WWO), featuring Andrew Garfield & WWO CEO Dr. Jane Aronson.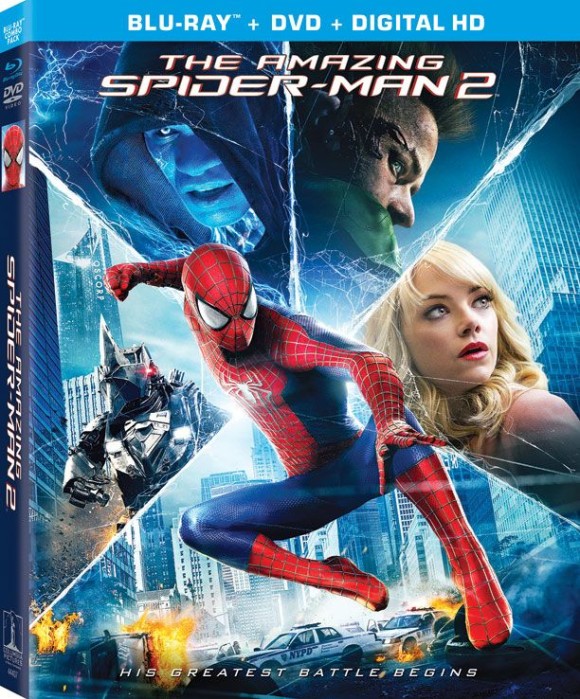 The Amazing Spider-Man : Le Destin d'un Héros de Marc Webb est sorti en France le 30 avril 2014, avec Andrew Garfield (Peter Parker/Spider-Man), Emma Stone (Gwen Stacy), Jamie Foxx (Maxwell Dillon/Electro), Shailene Woodley (Mary Jane Watson), Dane DeHaan (Harry Osborn), Chris Cooper (Norman Osborn), Colm Feore (Donald Menken), Paul Giamatti (Aleksei Sytsevich/le Rhino) et Sally Field (May Parker).