The Art of Evolution, semaine 9 (via Entertainment Weekly) ! Sur le poster du prochain épisode, nous découvrons qui sont les six salopards de 'The Dirty Half Dozen'. Ce visuel est signé Jake Wyatt (Ms. Marvel). Pendant ce temps, la websérie 'Double Agent' se poursuit avec la mise en ligne du quatrième épisode (épisode 1, épisode 2, épisode 3). Mais avant, place aux chiffres ! Marvel : Les Agents du S.H.I.E.L.D. a toujours la forme olympique :
1.14 million pour 'Projet Deathlok', 4.5% (vs. 959 000, 3.7%) ;
1.23 million pour 'TA.H.I.T.I.', 5% (vs. 1.10 million, 4.4%) ;
jusqu'à 789 000 pour les rediffusions, jusqu'à 5.3% (vs. 140 000 à 649 000, jusqu'à 4.5%).
Incroyable, la série progresse et retrouve quasiment son niveau de départ ! Dans ce contexte, W9 obtient bien sûr la première place des audiences TNT.
—————————————————-
Agents of S.H.I.E.L.D. – Saison 2 – Episode 19 – 'The Dirty Half Dozen' : Gonzales et Coulson doivent trouver un moyen de mettre leurs différences de côté afin de travailler ensemble contre l'HYDRA, même si cela signifie faire équipe avec quelqu'un en qui ils n'ont pas confiance.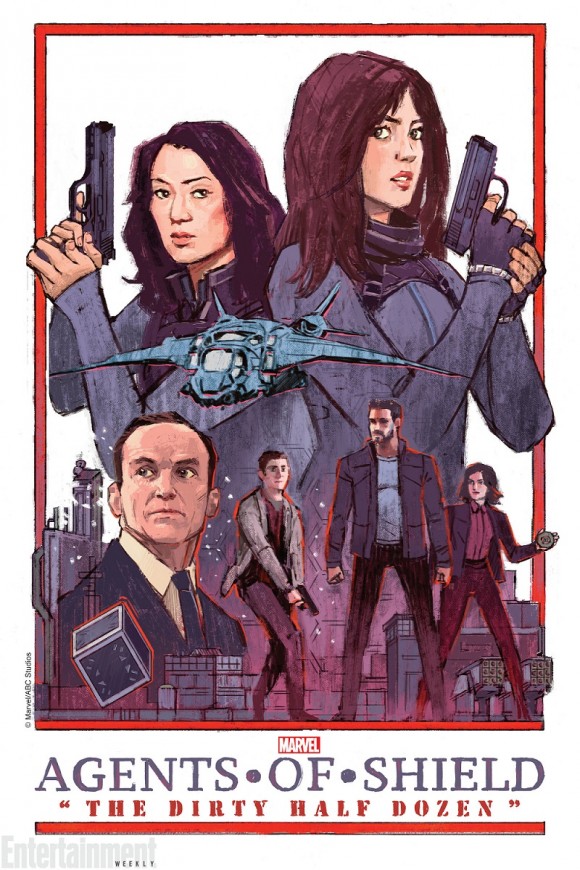 —————————————————-
La série Agents of S.H.I.E.L.D. est diffusée chaque mardi sur ABC (et le mercredi sur W9), avec Clark Gregg (Directeur Phil Coulson), Ming-Na Wen (Agent Melinda May), Brett Dalton (Grant Ward), Chloe Bennet (Agent Skye), Iain De Caestecker (Agent Leo Fitz), Elizabeth Henstridge (Agent Jemma Simmons), Nick Blood (Lance Hunter) et Adrianne Palicki (Bobbi Morse).