Nouvelle saison, nouvelle mission pour la super-équipe la plus cool du petit écran ! Outre la bande annonce de la saison 3, le panel Legends of Tomorrow a révélé les retours de Neal McDonough (Damien Darhk), Arthur Darvill (Rip Hunter) et Wentworth Miller (Leonard Snart/Captain Cold ). Kuasa, la némésis de la Vixen moderne, sera également de la partie. Comme dans la série animée, elle cherchera à s'approprier le totem Anansi, qui confère à son possesseur des pouvoirs animaliers. PS : ne manquez pas la scène post-générique de la bande annonce. C'est une magnifique blague méta. Victor Garber est connu pour avoir joué… Thomas Andrews, l'architecte du Titanic dans le film de James Cameron !
Après la défaite d'Eobard Thawne et de l'infâme Legion of Doom, les Legends font face à une nouvelle menace créée par leurs actions à la fin de la dernière saison. En revisitant un moment de l'histoire auquel ils ont déjà participé, ils ont fracturé la ligne temporelle et créé des anachronismes – la dispersion d'un ensemble de gens, animaux et objets à travers le temps ! Notre équipe doit trouver un moyen de renvoyer tous les anachronismes dans leur ligne temporelle d'origine avant que le flux temporel ne s'effondre. Mais avant que nos Legends puissent repasser à l'action, Rip Hunter et son nouveau Time Bureau mettent en doute leurs méthodes [lire le synopsis complet]…
———————————————————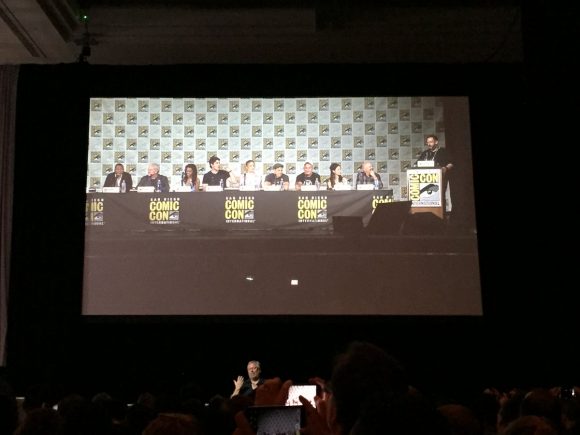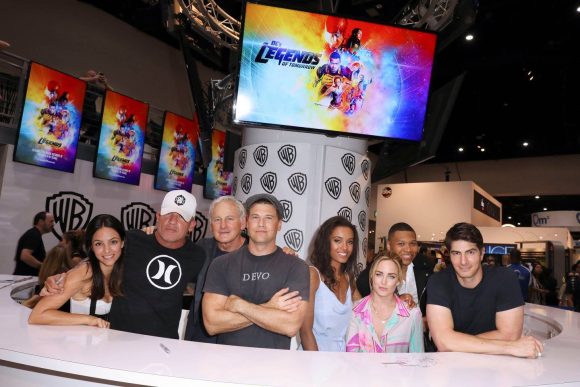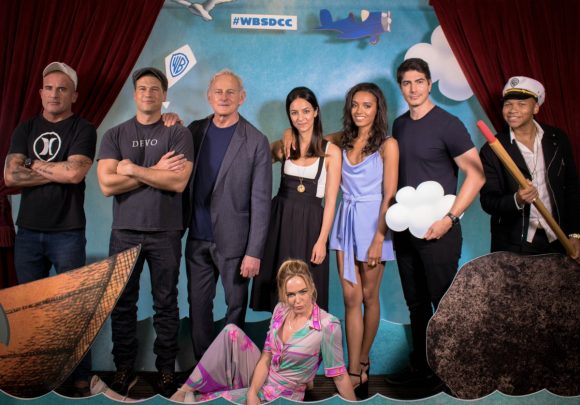 Don't call them actors. They're Legends. The cast of #DCTV's #LegendsOfTomorrow at the Warner Bros. booth! #DCSDCC pic.twitter.com/awx7LwxExt

— DC (@DCComics) 22 juillet 2017
La série Legends of Tomorrow revient le 10 octobre 2017 sur la chaîne The CW, avec Caity Lotz (Sara Lance/White Canary), Brandon Routh (Ray Palmer/The Atom), Dominic Purcell (Mick Rory/Heat Wave), Victor Garber (Professeur Martin Stein), Franz Drameh (Jefferson 'Jax' Jackson/Firestorm), Nick Zano (Nate Heywood/Citizen Steel), Maisie Richardson-Sellers (Amaya Jiwe/Vixen) et Arthur Darvill (Rip Hunter).