Quand la série Titans répond au film Deadpool 2, cela donne un spot pas comme les autres qui débute avec la fameuse réplique prononcée par Deadpool au sujet de Cable : « 'tellement sombre… tu es sûr que tu ne viens pas de l'univers DC ?' – D. Pool, philosophe américain / A cela, nous répondons… Va te faire voir, Mr Pool. – Avec amour, l'univers DC. » C'est envoyé ! Le plus choquant étant bien sûr que Mr Pool n'est pas américain, mais un fier ressortissant de la non moins fière nation canadienne. Bref, J-4 avant la mise en ligne du premier épisode de Titans !
Titans suit les aventures de Robin, surgi des ténèbres de Gotham pour prendre la tête d'une nouvelle bande de jeunes super-héros : Raven, Starfire et Beast Boy. Unissant leurs forces pour affronter leurs propres démons et sauver le monde du mal, ils réalisent une chose… seuls, ils sont des êtres brisés, mais ensemble, ils sont les Titans.
To Mr. Pool, with love, #DCUniverse. Join today. #DCUTITANShttps://t.co/szpipt74Z5 pic.twitter.com/zLJqGt1HAZ

— DCUTitans (@DCUTitans) 8 octobre 2018
La dernière bande annonce et le dernier spot :
Un nouvel extrait (à 5:00) :
Titans à la Comic-Con de New York (à 5:00) :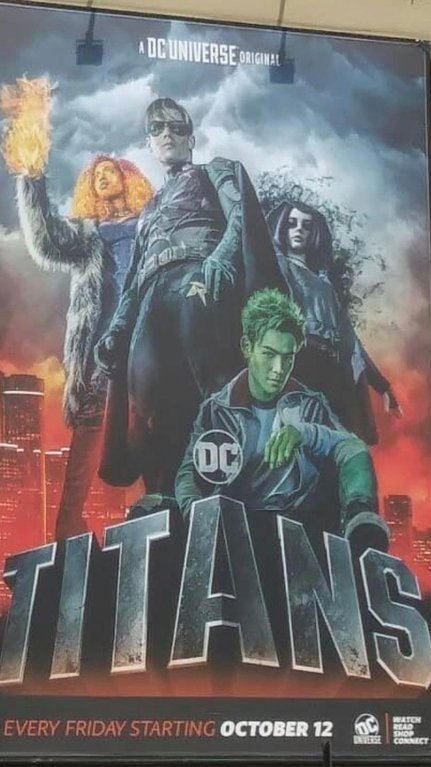 La série Titans sera mise en ligne à partir du 12 octobre 2018 sur la plateforme DC Universe, avec Brenton Thwaites (Dick Grayson/Robin), Teagan Croft (Rachel Roth/Raven), Anna Diop (Koriand'r/Starfire), Ryan Potter (Garfield 'Gar' Logan/Beast Boy), Alan Richson (Hank Hall/Hawk), Minka Kelly (Dawn Granger/Dove) et Lindsey Gort (Inspectrice Amy Rohrbach).