En cette froide journée de décembre, réchauffons-nous un peu avec un nouveau poster de Hellboy (via IGN) ! Une fois n'est pas coutume, Anung Un Rama est représenté avec ses cornes, afin d'insister sur son côté démoniaque : « Les démons ont aussi des démons. » Ce poster est un avant-goût de ce qui nous attend jeudi… la première bande annonce !
[Synopsis extrait des comics.] Au plus profond de l'Angleterre, les anciens géants se réveillent. Il est temps pour la Grande Battue, ancestrale compagnie de traqueurs de monstres, de partir en chasse. Sur invitation, Hellboy se joint à la curée… pour bientôt devenir lui-même gibier. Trahi par la meute, il est jeté en pâture à la Reine de Sang. Pour la vaincre, Hellboy devra-t-il se résoudre à endosser son héritage démoniaque ?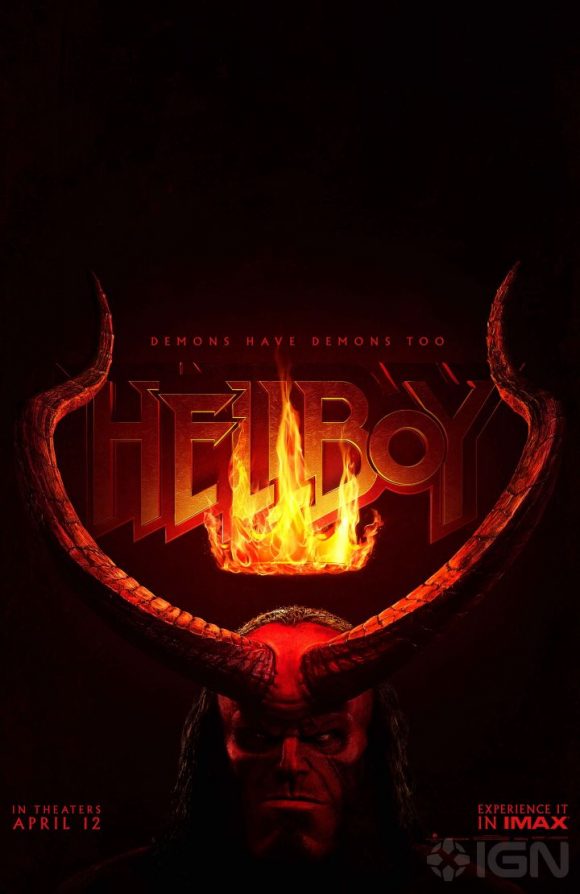 Demons have demons, too. #Hellboy arrives in @IMAX on 4.12.19. pic.twitter.com/6rqHSG721P

— Hellboy (@HellboyMovie) 17 décembre 2018
#Hellboy got us ringin' hell's bells…
the first trailer drops THIS THURSDAY!! pic.twitter.com/WAQFlgiKxR

— Fandango (@Fandango) 17 décembre 2018
Hellboy est réalisé par Neil Marshall et sort aux États-Unis le 12 avril 2019, avec David Harbour (Hellboy), Milla Jovovich (Nimue/la Reine de Sang), Sasha Lane (Alice Monaghan), Daniel Dae Kim (Major Ben Daimio), Penelope Mitchell (Ganeida) et Ian McShane (Professeur Trevor 'Broom' Bruttenholm).