Si la commande de Ghost Rider a été annulée, il n'en est heureusement pas de même pour Helstrom, la nouvelle série super-héroïque de la plateforme Hulu (Runaways) ! Sans plus attendre, voici le casting d'un show qui pourrait bien être à Marvel ce que Constantine a été à DC Comics. Avec en prime, un acteur qui a la tête de l'emploi, la révélation de la saison 5 de Fear the Walking Dead et… une actrice au nom merveilleusement prédestiné !
Tom Austen (The Royals, Grantchester) est Daimon Helstrom. Professeur d'éthique le jour et exorciste la nuit, Daimon ne se fait aucune illusion quant au salut d'un monde pour lequel il n'a aucune patience ; il espère juste pouvoir aider certains de ses proches. Dans sa bataille contre un monde caché, Daimon est déterminé à éliminer les démons dès qu'ils apparaissent et ne s'arrêtera pas tant qu'ils n'auront pas été vaincus.
Sydney Lemmon (Succession, Fear the Walking Dead) est Ana Helstrom. Le jour, Ana dirige une maison de vente aux enchères et ne supporte par les imbéciles, mais son véritable intérêt réside dans la chasse à ceux qui font du mal à autrui. Traumatisée par son père alors qu'elle était enfant, Ana est amenée à débarrasser le monde de ceux qui sont comme lui, même si elle craint secrètement son retour.
Elizabeth Marvel (Homeland, House of Cards) est Victoria Helstrom. En proie à des démons à la fois réels et imaginaires, Victoria a été internée pendant vingt ans. Pendant qu'elle lutte pour être elle-même, elle espère réparer sa relation avec ses enfants.
Robert Wisdom (Ballers, Prison Break) est le Gardien. Le Gardien est le protecteur de la connaissance de l'occulte. Il utilise son savoir et sa relation avec Ana pour aider à endiguer les forces démoniaques.
June Carryl (Mindhunter, Dead Women Walking) est le Docteur Louise Hastings. Psychologue à la foi profonde mais à l'esprit ouvert, Hastings est à la tête de l'hôpital psychiatrique où Victoria est surveillée. Elle a veillé sur la famille Helstrom pendant des années, prenant soin d'elle du mieux qu'elle pouvait.
Ariana Guerra (Comment élever un super-héros, Insatiable) est Gabriella Rosetti. Femme qui équilibre la logique et la foi, Gabriella arrive du Vatican pour aider Daimon et Hastings à mettre au jour des cas de possession démoniaque. Elle veut sauver tout le monde, y compris Daimon.
Alain Uy (The Passage, True Detective) est Chris Yen. Yen est le partenaire d'affaires d'Ana et son ami le plus proche – certains diraient son frère de substitution. Il assume l'essentiel des responsabilités de la maison et assiste Ana pour tout ce dont elle a besoin.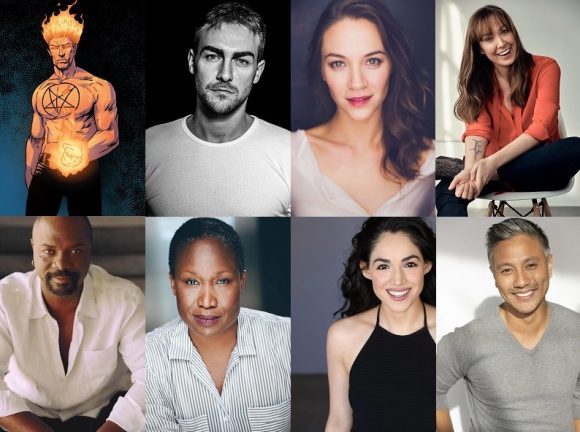 Daimon et Ana Helstrom sont le fils et la fille d'un mystérieux et puissant tueur en série. Le frère et la sœur ont une dynamique complexe, alors qu'ils traquent les pires terreurs de l'humanité – chacun avec son attitude et ses compétences.
La série Helstrom sera diffusée en 2020 sur la plateforme Hulu.