Chaque jour, retrouvez sur une seule page toutes les news des comics Marvel et DC via différentes rubriques : Panini Comics et Urban Comics pour l'actualité en France ; Marvel Comics et DC Comics pour l'actualité aux Etats-Unis. Avec aussi un peu d'Indé !
Au programme du jour : l'incontournable Star Wars : L'Ascension de Kylo Ren arrive enfin en France ; la bande annonce de The Amazing Spider-Man #850 avec le retour du Green Goblin ; un premier aperçu de l'anthologie Wonder Women of History ; les débuts de l'histoire multiplateforme Doctor Who : Time Lord Victorious ; et plus encore !
PANINI COMICS
[Sortie du jour] C'est sans aucun doute le comics le plus important de l'Univers Officiel… Star Wars : L'Ascension de Kylo Ren est enfin disponible en France ! Soit notre premier aperçu du Nouvel Ordre Jedi de Luke Skywalker, des Chevaliers de Ren avant Kylo Ren, de Snoke sans le Premier Ordre, etc… Alors, certes, il reste encore quelques zones d'ombre dans le passé de Ben Solo – notamment concernant cette fameuse nuit où l'Académie a brûlé -, mais difficile de bouder son plaisir devant ces pages signées Charles Soule et Will Sliney, qui vont de révélation en révélation !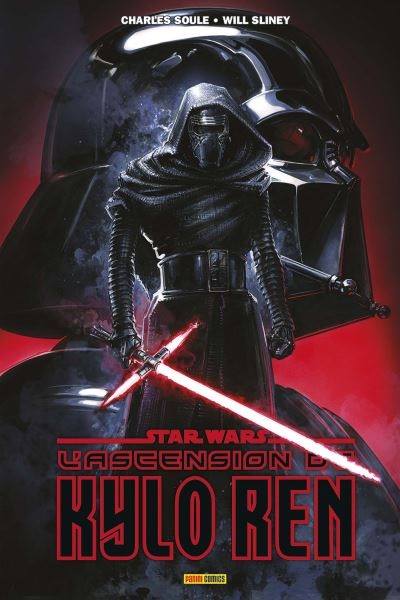 MARVEL COMICS
[Preview] The Amazing Spider-Man #850
Scénariste : Nick Spencer
Dessinateur : Ryan Ottley, Humberto Ramos, Mark Bagley
Synopsis : Comme si les choses n'étaient pas assez compliquées pour Spider-Man avec le règne de terreur du Sin-Eater atteignant un niveau critique… LE GREEN GOBLIN EST DE RETOUR ! Spidey a traversé beaucoup de choses, mais même les pires choses qui soient jamais arrivées à Spider-Man ne sont qu'un prélude à ce qui se passe ici, avec une histoire principale épique d'une véritable dream team de Spider-Créateurs. Comme si cela ne suffisait pas, ce numéro contient également un recueil d'histoires courtes de prestige de Tradd Moore, Kurt Busiek, Chris Bachalo & Saladin Ahmed !
Date de sortie : 30/09/20
---
[Preview] Wolverine #5
Scénariste : Benjamin Percy
Dessinateur : Viktor Bogdanovic
Synopsis : Dans l'obscurité enneigée du nord, Wolverine est le prisonnier de Dracula. En formant une alliance improbable, Logan riposte. Des piquets, des griffes, des motoneiges customisées et un chaos hivernal vous attendent.
Date de sortie : 02/09/20
---
[Preview] Cable #4
Scénariste : Gerry Duggan
Dessinateur : Phil Noto
Synopsis : Les anciens chevaliers d'une autre galaxie visent Cable… et il n'a d'autre choix que de leur donner ce qu'ils veulent !
Date de sortie : 02/09/20
DC COMICS
[Premier aperçu] Wonder Women of History (graphic novel)
Scénariste : Laurie Halse Anderson, Collectif
Dessinateur : Collectif
Synopsis : Les héros ne portent pas tous des capes. Wonder Woman est une source d'inspiration depuis des décennies, et bien que tout le monde ne choisisse pas de porter sa tenue étoilée, sa compassion et son équité sont dignes d'émulation. Nous présentons les histoires des héros du monde réel qui prennent le relais de Diana et travaillent dans les domaines de la science, de l'activisme pour la justice sociale, de la diplomatie et plus encore ! L'auteur primée Laurie Halse Anderson réunit un casting d'auteurs et d'illustrateurs stars dans cette anthologie de Wonder Women.
Date de sortie : 01/12/20
Alexandria Ocasio-Cortez – écrit par Lilliam Rivera et dessiné par Anastasia Longoria
Ruth Bader Ginsburg – écrit par Lilah Sturges et dessiné par Devaki Neogi
Elizabeth Warren – écrit et dessiné par Renae De Liz
Rashida Tlaib – écrit et dessiné par Marguerite Dabaie
Teara Fraser – écrit par Traci Sorell et dessiné par Natasha Donovan
Beyoncé – écrit par Mikki Kendall et dessiné par A. D'Amico
Mari Copeny – écrit par Olugbemisola Rhuday-Perkovich et dessiné par Sharee Miller
Edith Windsor – écrit par Amanda Deibert et dessiné par Cat Staggs
Marsha P. Johnson – écrit par Jadzia Axelrod et dessiné par Michaela Washington
Emma Gonzalez – écrit par Kami Garcia et dessiné par Igzell
Judith Heumann – écrit par Marieke Nijkamp et dessiné par Ashanti Fortson
Ellen Ochoa – écrit par Cecil Castellucci et dessiné par Carina Guevara
Shi Zhengli – écrit par Emily X.R. Pan et dessiné par Wendy Xu
Serena Williams – écrit par Danielle Paige et dessiné par Brittney Williams
Tig Notaro – écrit par Sara Farizan et dessiné par Nicole Goux
Keiko Agena – écrit par Sarah Kuhn et dessiné par Lynn Yoshii
Dominique Dawes – écrit par Danny Lore et dessiné par Robyn Smith
Janelle Monae – écrit par Vita Ayala et dessiné par O'Neill Jones
---
[Preview] Batman #98
Scénariste : James Tynion IV
Dessinateur : Jorge Jimenez
Synopsis : The Joker War, partie quatre sur six ! Batman est plus vulnérable que jamais après avoir reçu une dose massive d'une nouvelle toxine Joker expérimentale. Avec le Chevalier Noir hanté par des démons et des visions, c'est à Harley Quinn de le protéger pendant qu'il se rétablit, car Punchline est en route !
Date de sortie : °1/09/20
---
[Preview] DCeased : Dead Planet #3 (mini-série, 3/7)
Scénariste : Tom Taylor
Dessinateur : Trevor Hairsine, Gigi Baldassini
Synopsis : Un mystérieux second 'jardin' a été localisé de l'autre côté de la planète, et John Constantine et Swamp Thing mènent une mission d'enquête … mais ce qu'ils découvrent changera fondamentalement tout ! La route vers la 'Earth War' commence ici !
Date de sortie : 01/09/20
INDÉ
[Preview] Doctor Who : Time Lord Victorious #1 (mini-série, 1/2)
Scénariste : Jody Houser
Dessinateur : Roberta Ingranata
Synopsis : Une nouvelle aventure passionnante pour le Dixième Docteur (joué par le favori des fans David Tennant) qui voit le retour choquant de ses ennemis les plus meurtriers : les Daleks ! Mais les choses ne sont pas ce qu'elles semblent – le temps cloche, et quelque chose arrive qui terrifie même les Daleks… Le premier des deux numéros surdimensionnés qui donne le coup d'envoi de l'épopée très attendue de Doctor Who multiplateforme de la BBC, Time Lord Victorious!
Date de sortie : 02/09/20