David Ramsey a vendu la mèche lors d'un panel de la DragonCon… Ainsi, le grand méchant de la saison 3 de Superman & Lois sera incarné par Chad L. Coleman, alias Tyreese Williams dans The Walking Dead et Fred Johnson dans The Expanse. Et comme le multivers – ou Hollywood – est vraiment petit, on se souvient qu'il jouait aussi Tobias Church dans la saison 5 d'Arrow. Officiellement, on ne sait pas quel sera son rôle ; mais l'une des dernières scènes du dernier season finale pointe bien sûr vers Bruno Mannheim, le chef de l'Intergang, qui est décrit par John Diggle comme l'homme qui a tué le John Henry Irons de la Terre où se déroule la série. Un terroriste qui utilise des armes apokoliptiques dans Superman & Lois ? Ce serait un premier pas vers le teasing de Darkseid…
Dans Superman & Lois, après avoir affronté pendant des années des super-vilains mégalomanes, des monstres ravageant Metropolis et des envahisseurs extraterrestres déterminés à anéantir la race humaine, le super-héros le plus célèbre du monde, l'Homme d'Acier alias Clark Kent, et la journaliste la plus célèbre des comics, Lois Lane, sont confrontés à l'un de leurs plus grands défis – faire face à tout le stress, à la pression et à la complexité qui accompagnent le fait d'être des parents qui travaillent dans la société d'aujourd'hui. Pour compliquer la tâche déjà ardue d'élever deux garçons, Clark et Lois doivent également se demander si leurs fils Jonathan et Jordan peuvent hériter des super-pouvoirs kryptoniens de leur père en vieillissant.
BREAKING: Actor Chad L. Coleman (#TheExpanse) has been cast as a lead villain in SUPERMAN & LOIS Season 3! Details: https://t.co/js5W94ZVe3 pic.twitter.com/0hTsTS9YBV

— DCU – The Direct (@DCU_Direct) September 3, 2022
————————————————–
﹡﹡﹡﹡﹡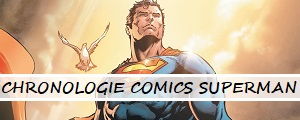 ﹡﹡﹡﹡﹡
La série Superman & Lois revient en 2023 sur la chaîne The CW, avec Tyler Hoechlin (Clark Kent/Superman), Elizabeth Tulloch (Lois Lane), Jordan Elsass (Jonathan Kent), Alexander Garfin (Jordan Kent), Emmanuelle Chriqui (Lana Lang-Cushing), Erik Valdez (Kyle Cushing) et Dylan Walsh (Général Sam Lane).