Chaque mercredi apportant sa nouvelle moisson de films dans les salles, il faut malheureusement se dépêcher si l'on veut encore profiter de
Captain America
sur grand écran. A ce propos,
combien de fois avez-vous vu le film ?
Plus d'un mois après sa sortie américaine, voici
les premières informations sur le Blu-Ray/DVD
du film. L'édition combo s'avère impressionnante : le long métrage de Joe Johnston sera disponible en format DVD + Blu-Ray + Blu-Ray 3D + Copie digitale ! Avec une sortie prévue pour
le 17 décembre en France
(contre le 25 octobre aux États-Unis),
Captain America
débarquera donc à temps pour garnir les sapins de Noël ! En attendant, voici les visuels des jaquettes, ainsi que le détail des bonus. Quatre scènes coupées seront au programme, dont une mystérieusement nommée
La Bataille de Bucky
… L'autre morceau de choix sera bien sûr
le nouveau court métrage mettant en scène l'Agent Coulson
(
A funny thing happened on the way to Thor's hammer
) où nous découvrirons une petite mésaventure de Coulson, juste avant qu'il n'arrive à l'endroit où s'est écrasé le marteau de Thor… Ma question : le méga-coffret pré-
The Avengers
, pour revoir tous les films
Marvel Studios
, c'est pour quand (s'il y en a un bien sûr, mais je n'ose imaginer le contraire !) ?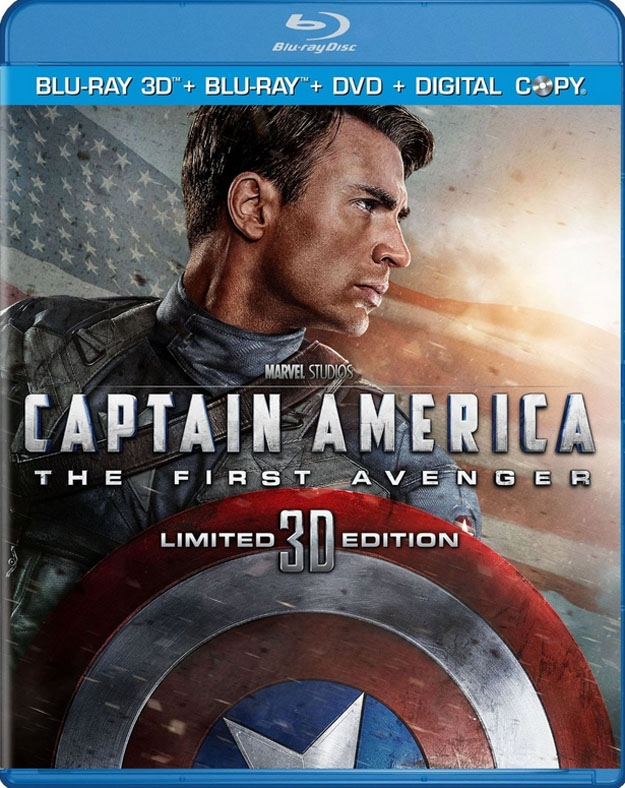 00:03:44:01 MARVEL ONE-SHOT: A FUNNY THING HAPPENED ON THE WAY TO THOR'S HAMMER
00:01:08:17 THE AVENGERS – EARTH'S MIGHTIEST HEROES!
00:03:40:16 (CAPTAIN AMERICA'S ORIGIN)
00:10:20:20 (OUTFITTING A HERO)
00:05:47:02 (HOWLING COMMANDOS)
00:11:41:07 (HEIGHTENED TECHNOLOGY)
00:09:53:15 (BEHIND THE SKULL)
00:08:23:13 (THE TRANSFORMATION)
00:02:13:15 CAPTAIN AMERICA – SUPER SOLDIER
00:01:37:13 THE AVENGERS
00:00:38:06 (DELETED SCENES: NORWAY TANK ATTACK)
00:01:29:22 (DELETED SCENES: BUCKY'S BATTLE)
00:00:57:23 (DELETED SCENES: YOU DESERVE A MEDAL)
00:02:02:22 (DELETED SCENES: THERE'S A PLACE FOR YOU HERE)
00:00:39:08 (DELETED SCENES: NORWAY TANK ATTACK W/COMMENTARY)
00:01:29:24 (DELETED SCENES: BUCKY'S BATTLE W/COMMENTARY)
00:00:57:23 (DELETED SCENES: YOU DESERVE A MEDAL W/COMMENTARY)
00:02:18:05 CAPTAIN AMERICA – THE FIRST AVENGER (THEATRICAL TRAILER #1)
00:02:17:19 CAPTAIN AMERICA – THE FIRST AVENGER (THEATRICAL TRAILER #2)