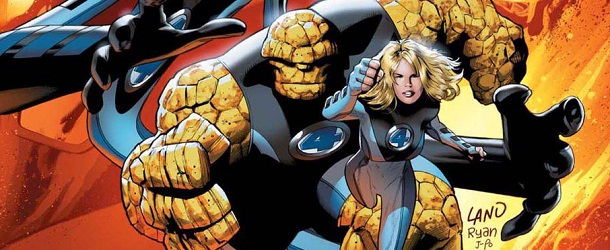 Dans le milieu, on l'appelle « The Source »… Plus sérieusement, Mark Millar a encore tweeté. Millar, pour les trois du fond qui ne suivent pas, c'est le scénariste écossais de The Ultimates, Civil War et Kick-Ass. Et présentement, il joue au consultant-spécialiste ès Marvel pour la Fox, afin de construire un semblant d'univers partagé façon Avengers. C'est le Joss Whedon du studio, mais avec moins de liberté et moins de jouets (les X-Men, les Quatre Fantastiques… et c'est tout).
Sur son compte Twitter, il a donc déclaré que Matthew Vaughn produira le reboot des Quatre Fantastiques, réalisé par Josh 'Chronicle' Trank. Prendre quelqu'un qui a déjà tourné un film Marvel (X-Men : Le Commencement), c'est toujours bon pour la continuité. Et c'est ma tante Pétunia qui va être contente. Même s'il y a encore du boulot, la Fox semble enfin se bouger avec ses licences super-héroïques. Il n'y aura plus qu'à récolter les fruits de « l'autre » Univers Cinématographique Marvel à partir de 2014/2015… On parle des FF sur le forum !
Les Quatre Fantastiques de Josh Trank sort le 6 mars 2015 aux Etats-Unis.