Eva Green, méchante principale de 300 : Rise of an Empire, la préquelle-suite de 300 ? Eva Green, menant au combat les Immortels (les soldats d'élite de l'armée perse), une épée dans chaque main ? Eva Green, commandant la flotte d'invasion qui doit anéantir les cités libres de Grèce ? Je dis trois fois « Oui » ! La première image – badass – de l'actrice vient donc d'être dévoilée sur le site Entertainement Weekly. Et pour voir ou revoir les précédents clichés en HD, c'est par ICI.
Dans ce nouveau chapitre de la saga 300, adaptée du roman graphique de Frank Miller, « Xerxes », le général grec Thémistocle (Sullivan Stapleton) tente de mobiliser toutes les forces de la Grèce pour livrer une bataille contre les redoutables Perses, emmenés par Xerxès (Rodrigo Santoro), homme devenu dieu, et Artémise (Eva Green), à la tête de la marine perse…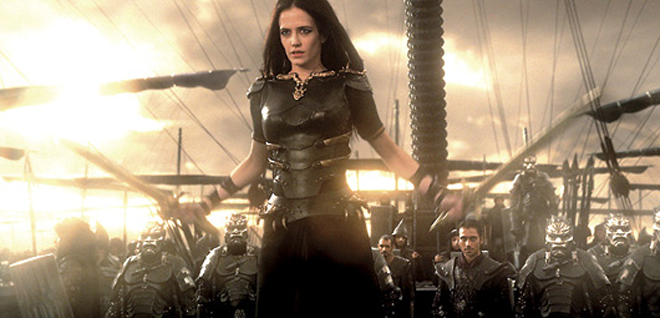 300 – Rise of an Empire de Noam Murro sort le 7 août 2013, avec Sullivan Stapleton (Général Thémistocle), Eva Green (Artémisia), Lena Headey (Reine Gorgo), Rodrigo Santoro (Xerxès), Yigal Naor (Darius), Callan Mulvey (Scyllias), Jack O'Connell (Calisto), Callan Mulvey (Scyllias) et Andrew Tiernan (Éphialtès).